Products Description
About Valmont
Small in size but great in riches, Switzerland is a true land of prestige and influence. Medical expertise, breathtaking landscapes, pure resources, etc. The pure and protected environment of Switzerland is the cradle of Valmont products. From the company's head office on the banks of Lake Geneva to the summits of the Alpine glaciers, Valmont prides itself on deftly reconciling cutting-edge Swiss R&D and the taste for tradition that comes from natural heritage of exceptional purity.
Benefits
A savant formulation of skin science and sheathing veil of sensoriality, V-FIRM Serum places its focus on elasticity and tone. Proven, bioavailable ingredients that the dermis understands for targeted action on lost volume in the face contour and flaccid, gravity-impacted skin.
Designed specifically for complexions showing signs of maturity, this sumptuous serum brings back the bounce for plumper, firmer skin.
Suitable for all ages and skin types. Particularly beneficial for skin prone to dryness.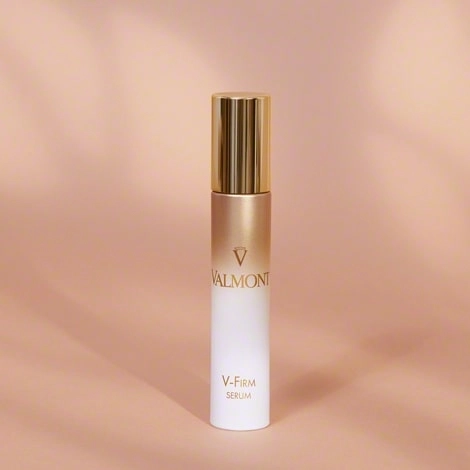 Ingredients
Peptide cocktail for collagen production
Matrikine peptides to regulate skin cell activity by "talking" to their specific receivers, reorganize the extracellular matrix and promote cell proliferation, two mechanisms that diminish with age. Collagen synthesis is intensified, and dermal tissue enriched for newfound firmness.
Density Complex for density and elasticity
A powerful combination of vitamin C, lysine and proline amino acids essential to promote collagen production, a glucosamine derivative for moisture, Immortelle flower extract for optimal cohesion of dermis components, and copper, indispensable for collagen and elastin synthesis.
Triple DNA for vitality
Valmont's signature molecule of exceptional anti-aging properties that stimulate all cell functions (hydration, restoration, renewal and metabolism).
RNA Liposome for harmony
This particular liposome entraps RNA and urea inside a phospholipid membrane to energize and stimulate healing.
Milk protein (whey) for elasticity
Stimulates cellular interaction and collagen production for greater elasticity in the skin.
Application
Mornings and/or evenings, apply a few drops to the face and neck. Massage lightly with gentle effleurage touches until fully absorbed. Continue with V-FIRM Eye and V-FIRM Cream to complete your daily firming ritual.
 * Instrumental test – ultrasound measurement of skin thickness – Twice daily application of V-FIRM SERUM for 84 days on a panel of 20 women with an average age of 54.
** Consumer test – Twice daily application of V-FIRM SERUM for 84 days on a panel of 20 women with an average age of 54.
16 other products in the same category: