Products Description
About Valmont
Small in size but great in riches, Switzerland is a true land of prestige and influence. Medical expertise, breathtaking landscapes, pure resources, etc. The pure and protected environment of Switzerland is the cradle of Valmont products. From the company's head office on the banks of Lake Geneva to the summits of the Alpine glaciers, Valmont prides itself on deftly reconciling cutting-edge Swiss R&D and the taste for tradition that comes from natural heritage of exceptional purity.
Benefits
A reservoir of densifying biocompatible ingredients, this lusciously comfortable cream makes one with the skin. Fostering dermal density and epidermal harmony, the skin's natural barrier and elasticity are reinforced for a firmer, sharper face contour.
V-FIRM Cream is suitable for all generations and skin types. Especially recommended for mature and dry skin.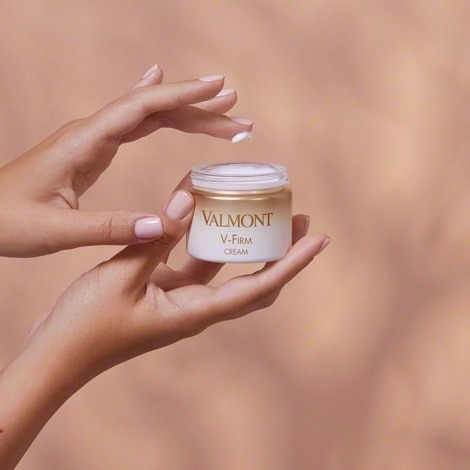 Ingredients
Peptide Cocktail
Matrikine peptides, like mini "messengers" interact with specific receivers to regulate skin cell activities that decline over time, encouraging collagen production for increased elasticity and tone.
Density Complex
Vitamin C, lysine and proline amino acids to promote collagen production, moisturizing glucosamine derivative, extract of Immortelle flower to optimize dermis cohesion, and copper to boost collagen and elastin synthesis for denser, bouncier skin.
Vegetal squalane
Strengthens the skin's natural barrier, moisturizes and protects against oxidation.
Triple DNA
Valmont's signature molecule applies exceptional anti-aging properties to maximize skin vitality through the stimulation of cell functionality (hydration, restoration, renewal and metabolism).
RNA Liposome
Entrapping RNA and urea in a phospholipid membrane, this specific liposome energizes and encourages skin cell harmony.
Application
Mornings and/or evenings, apply to the face and neck after V-FIRM Serum and V-FIRM Eye.
* Instrumental test – cutometric assessment of skin elasticity – Twice daily application of V-FIRM CREAM for 84 days on a panel of 20 women with an average age of 58.
** Consumer test – Twice daily application of V-FIRM CREAM for 84 days on a panel of 50 women with an average age of 61.
16 other products in the same category: