Products Description
About Valmont
Small in size but great in riches, Switzerland is a true land of prestige and influence. Medical expertise, breathtaking landscapes, pure resources, etc. The pure and protected environment of Switzerland is the cradle of Valmont products. From the company's head office on the banks of Lake Geneva to the summits of the Alpine glaciers, Valmont prides itself on deftly reconciling cutting-edge Swiss R&D and the taste for tradition that comes from natural heritage of exceptional purity.
Benefits
A festival of eye contour care pleasure in every sense, from its stunning honey-gold hue and gliding gel texture to its firming efficiency. Heavy eyelids and crepey under-eye skin will look forward to their daily dose of V-Firm Eye's restorative properties. With each application fatigue is forgotten and the sensation of firmness renewed, bringing your gorgeous wide-open gaze back to the present.
Suitable for all ages and skin types. Particularly recommended for skin prone to dryness.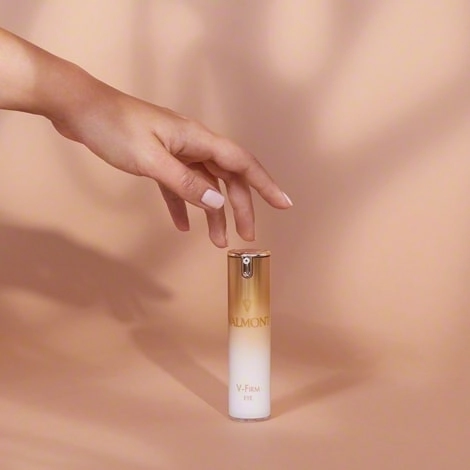 Ingredients
Peptide cocktail
Matrikine peptides to boost collagen production for skin firmness and elasticity.
Density Complex
An intricate composition of skin densifying actives, indispensable to a firm, well-rounded dermis.
High-molecular-weight hyaluronic acid
Creates a tensing and lifting film for well-hydrated skin.
Triple DNA
Valmont's state-of-the-art anti-age molecule for cell function stimulation (hydration, restoration, renewal and metabolism) essential to skin vitality.
RNA Liposome
RNA and urea inside a phospholipid membrane to stimulate healing mechanisms and vitality for skin cell harmony.
Application
Mornings and/or evenings, apply half a pump to the eye contour with delicate taps of the fingertips after the V-Fim Serum and before the V-Firm Cream.
* Instrumental test – cutometric assessment of skin elasticity – Twice daily application of V-FIRM EYE for 84 days on a panel of 22 women with an average age of 54.
16 other products in the same category: